EJ in PA | Tuesday, April 6, 2021
Please note that the links to enter all virtual sessions are found when you click on a time. There is only one link for all morning sessions and keynote and one link for each hub session. If at any point during the day you need a password for a WebEx session, the password will be " EJinPA ". 
If you have any questions relating to the technology and platform during the EJ event, please email ProfessionalEd@harrisburgu.edu 
We understand that people engage and experience events in different ways, so below you will find an inclusive schedule to design your day and make it work for you! For those who want a full-day conference experience, there are sessions to keep you engaged. For those who require more breaks, there are video resources,  to view, those links are listed under the "EJ resources" tab at the top of your screen. 
Morning Sessions & Keynote | 9:30 – 11:40 AM  
9:30 - 9:45 AM | Welcome
Welcome from the steering committee, thank event sponsors, review the agenda for the day. Click the link below to enter all morning sessions and the keynote address. 
9:45- 10:00 AM | Resource Break
Hear from local government officials and key EJ players in the community. Click the link below to enter all morning sessions and the keynote address. 
10:00-11:20 AM | Facilitated Keynote Conversation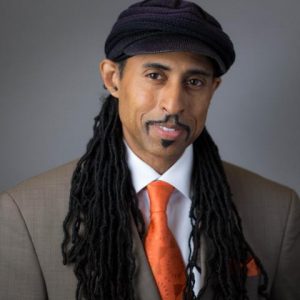 Dr. Mustafa Santiago Ali
A renowned thought leader, international speaker, policymaker, community liaison, trainer, and facilitator, Dr. Mustafa Santiago Ali wears many hats, he is the Vice President of Environmental Justice, Climate & Community Revitalization for the National Wildlife Federation (NWF), and also the Founder & CEO of Revitalization Strategies. Before joining the NWF Mustafa was the Senior Vice President for the Hip Hop Caucus, a national, non-profit, and non-partisan organization that connects the Hip Hop community to the civic process to build power and create positive change.  As HHC Senior Vice President, he led the strategic direction, expansion, and operation of the Hip Hop Caucus' portfolio on Climate, Environmental Justice, and Community Revitalization.
Prior to joining the Hip Hop Caucus, Mustafa worked 24 years at the U.S. Environmental Protection Agency (EPA). He began working on Social Justice issues at the age of 16 and joined the EPA as a student, becoming a founding member of the EPA's Office of Environmental Justice (OEJ). He most recently served as Senior Advisor for Environmental Justice and Community Revitalization and Assistant Associate Administrator working to elevate environmental justice issues and strengthening environmental justice policies, programs, and initiatives. Mustafa worked for EPA Administrators beginning with William Riley and ending with Scott Pruitt.
Throughout his career, Mustafa has conducted more than 1,000 presentations across the country, including speeches, guest lectures, and training. He has also worked with more than 500 domestic and international communities to secure environmental, health, and economic justice. Mustafa uses a holistic approach to revitalizing vulnerable communities helping them to move from Surviving to Thriving. Frequently seen on TV, including MSNBC, CNN, VICE, BET, Samantha Bee, and Democracy NOW Featured and/or cited in over 250 news publications to date, including GQ, New Republic, Ebony, Bustle, The Guardian, The Root, Los Angeles Times, and The Washington Post. Guest lecturer at over 100 colleges and universities, including Howard, Harvard, Yale, Berkley, Duke, George Washington, Georgetown, Spelman. A former instructor at West Virginia University, and Stanford University.
Mustafa currently serves a board member of the Robert Wood Johnson Foundation, Union of Concerned Scientist, TREE, Rodenberry Foundation, and Climate Hawks Vote. Current co-host of the live radio show and podcast, Think 100% "The Coolest Show On Climate Change" with Grammy Nominated Singer and Actress Antonique Smith & Civil Rights Icon, Rev Lennox Yearwood.
11:20 - 11:40 AM | Roll Call of EJ Hubs and EJ Information
Roll Call by HUBS  by Region and Facilitator, information from Environmental Justice Steering Committee Members of HUB proceedings and intent. Click the link below to enter all morning sessions and the keynote address. 
Lunch Break  | 11:40-12:50 PM 
1.) Learn
Spend your lunch break learning with prerecorded educational resources, found here
2.) Network
Join an open networking session over lunch to meet and mingle with fellow conference attendees.
3.) Relax & Recharge
Do your own thing and join back with the group to resume the event at 12:50 PM
Afternoon Sessions | 12:50 PM – 3:00 PM  
Hubs By Region
Meet with local partners to identify issues and create action around concerns in your community!  Click here for more information on the Environmental Justice hubs – https://summits.harrisburgu.edu/ejp/ej-community-hubs/
Click directly on the hub links below to enter the session at 12:50.